We design and make the best aprons and chef uniforms you will ever wear
Once you try on a Cream garment, you'll never want to take it off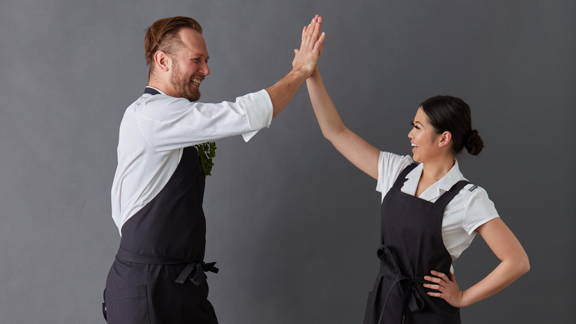 " The aprons look amazing and fit the best of any I've ever worn. "

" It's wonderful to put my coat on and walk into the kitchen. "


Imagine if your apron or chef jacket made you feel this good:
In the hottest kitchen or at the BBQ in the middle of an Australian summer, you feel cool.
You step onto the venue floor wearing an incredibly good fitting and fashionable chef jacket and everyone notices you.
This apparel gives you the confidence to take the next step in your culinary career.

It's possible to look and feel this great, whether you're in a world-class kitchen or getting creative in your own zone.
"Honestly, this is the most natural feeling garment I've worn.
It's trendy, comfortable and unlike anything else on the market.
I'm amazed with the breathability of the fabric."

Here's how Cream Collection is different
For starters, we're not a big corporation.
We're an Australian company that cares deeply about quality and ethical issues.
We design and make high-quality, boutique style and superbly comfortable designs.



Cream Collection produces considered and bespoke aprons and chef jackets that are modern, stylish and feel great.
While other jackets can feel uncomfortable, stiff and scratchy, Cream is different.
Our fashionable jackets are comfortable and cool, moving with you, not against you.
Designed in Australia from premium, durable organic fabric, our clothing fits best
- no potato sacks here - and comes in different cuts to suit different bodies.
All Aprons are proudly made right here in Australia.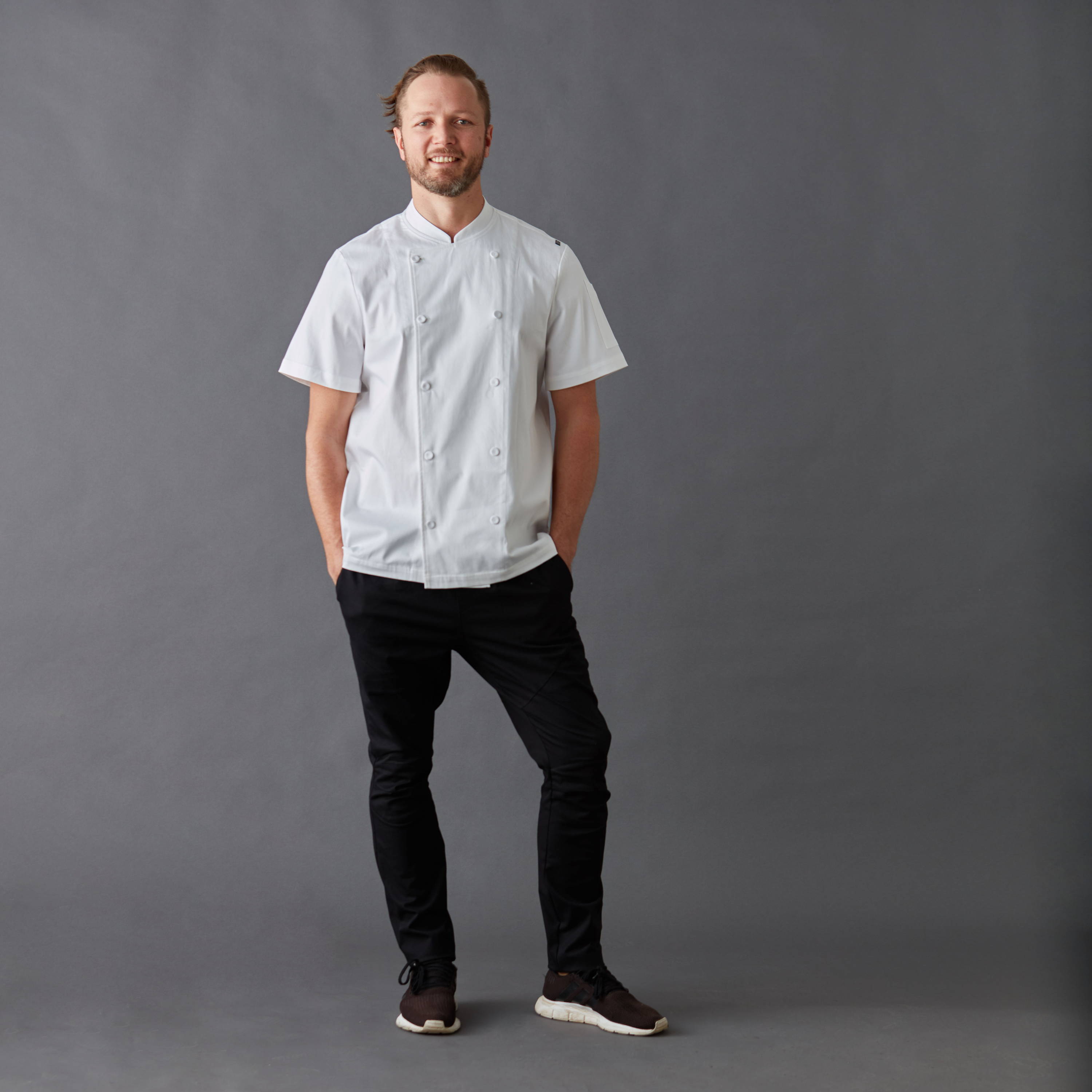 "It's super light and comfortable and I can feel my skin and body breathing through it.
It's not like those old-school jackets that use synthetic textiles and don't let the sweat or body heat escape. This jacket was a huge relief.
Finally, I've found something that looks good, and also feels good."
Ethically made apparel, using organic cotton
70% of our garments are made in Australia and Cream is the only hospitality workwear company in Australia using 100% organic cotton. Now you can support sustainability with a decision that feels good and looks fantastic.
"I feel good about supporting a company that has the same values as me which is the jackpot in business."
We take the time to understand what you need
All our products have been designed with you - and the way you use them, or gift them - in mind. A little stretch in the fabric here, an extra pocket for your gadgets there, personalised embroidery and a flat clasp that secures your apron neck strap. Whatever your creative passion, we want you to feel and perform at your absolute best.
"I can see there's someone behind it who really cares about the needs of chefs in the kitchen. It's all these small details that make the jacket special."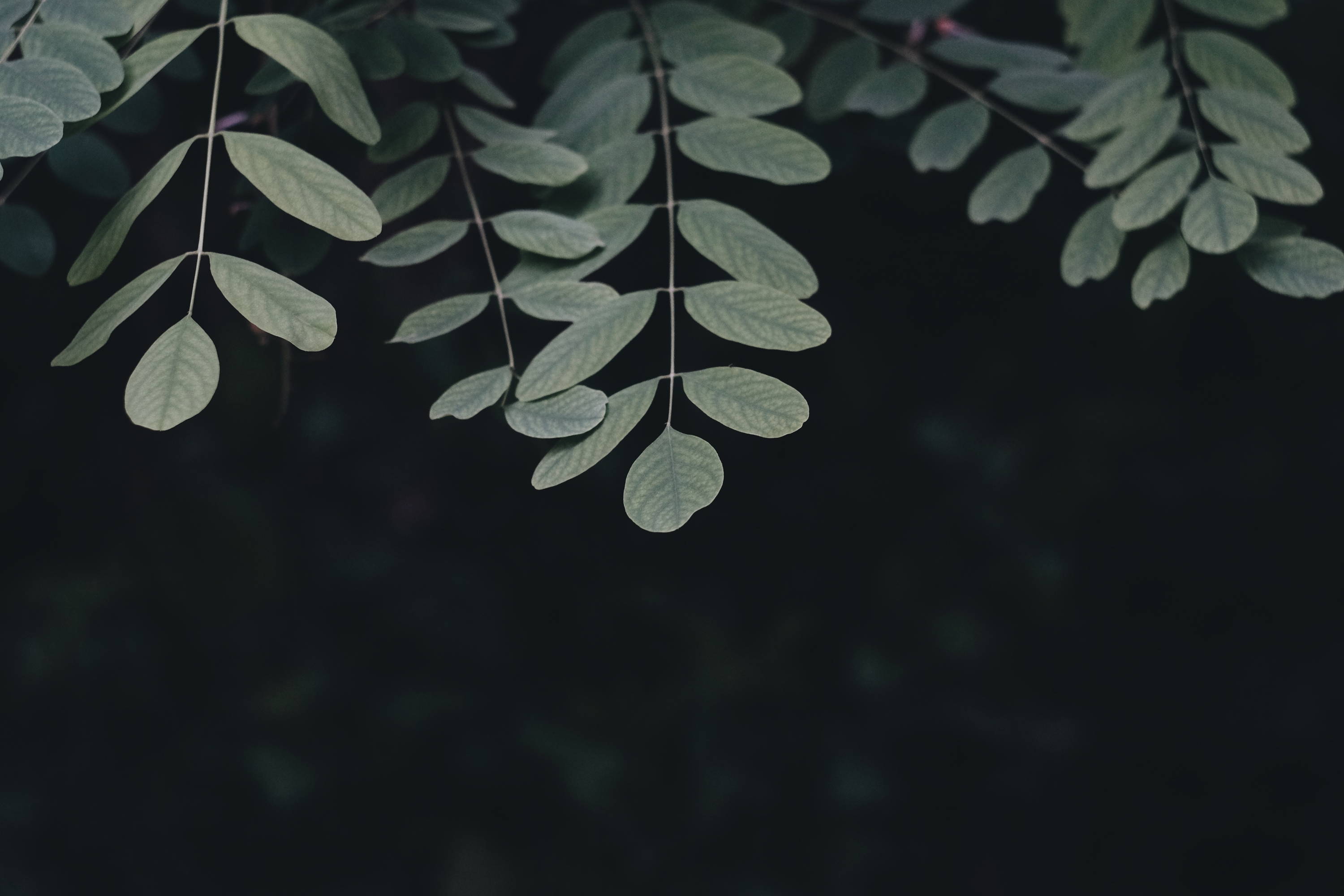 From your initial phone call or email to us, you're part of the Cream community. You can ask us anything. After all, you'll be dealing with real people, not just clicking buttons. And long after your order arrives, we're still here. Think ongoing free repairs for the life of your garment, advice, or just a chat. We can't wait to connect with you.
"Exceptional packaging and customer service to the highest standard. Being online would be hard for many retailers as you don't get to connect with the customer. Cream finds a way to do this perfectly."
The Cream Collection story
I'm Pam, fashion designer and founder of Cream Collection.
Watching Masterchef back in its early days, I wondered…
Chefs were becoming the new rock stars, but they were fitted out in hot, uncomfortable, polyester uniforms with no thought for sustainability or their image. Not so on-trend. I strongly believed - and still do - that premium restaurants deserve premium uniforms. But in those days, there was nothing much to choose from. I knew what I had to do.
My research and development led to the launch of Cream Workwear, which evolved to become Cream Collection. We're a boutique apparel brand for chefs and creatives that uses raw materials - organic cotton - to craft beautiful garments just for you. In a similar way, you transform raw ingredients in the kitchen, garden or studio into works of art.
It's my hope that in wearing Cream as you pursue your creative passion, you'll feel incredibly cool, superbly comfortable and fashionable.
You deserve the best, and by choosing to support a sustainable business using organic cotton and ethical practices, you're also having a positive impact well beyond your place of work or home.
Since 2015, we've evolved in response to the industry, sustainability practices and our customers' valuable feedback.
These are some of our proudest moments:
• All our products and packaging are now plastic-free, and we only use carbon neutral delivery services.
• We support the Carbon Neutral Charitable Fund and our future goal is to also support indigenous education.
• During COVID-19, Cream evolved significantly. We're delighted to now welcome home cooks, bakers, artists, gardeners, florists and creative children into the Cream community with Cream Collection Creative.
When you think about it, sustainable apparel is an obvious complement to our desire for a creative sustainable lifestyle. By choosing Cream Collection, you're choosing to walk the walk, not just talk the talk. Make a statement about what's important to you.
"I feel good about supporting a company that has the same values as me which is the jackpot in business."